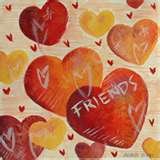 Két kedves blogtársamtól -
Silerikától
, és
Andreától
- is megkaptam ezt a kellemes meglepetést. Nagyon jól esett.
Miről is van szó?
"Ezek a blogok szerfelett bájosak, a blog íróknak az a céljuk, hogy barátok és barátságosak legyenek. Nem a pénz a mozgatórugó. Reményeink szerint ezen díj átadásakor több barátság keletkezik, a barátság elterjed, és több figyelmet kap a blogger. Amikor továbbadod, kérlek vedd figyelembe ezen elveket. Válassz nyolc embert."
"These blogs are exceedingly charming.
These kind bloggers aim to be friends. They are not interested in self-aggrandizement.
Our hope is that when the ribbons of these prizes are cut, even more friendships are propagated. Please give more attention to these kind of writers.
When you pass this award along please include these guidelines.
I am to choose eight friends to share this with"
Az az igazság, hogy
ez a barátságos díj már körbeért
. Ezért bár választok 8 blogolót, nem várom el, hogy még egyszer ők is körbe írjanak.
Választottjaim:
36 évi, Violini, Juhizs, Silerika, Katafolt, Skorpiocska, B_ildikó, Márta néni
Jó játékot!
---
M.I.Eszter

.